Giving Back... more community service projects...
In the spring of 2015, Jane Albanese reached out to G&L and Sons for assistance in constructing a wheelchair ramp for Conrado Bermudez of Paterson. Conrado is awaiting a kidney transplant and goes for dialysis treatments three times a week. In order for Conrado to have his dialysis, 2 men would carry him down 8 steps to the medical transport van. Knowing that a wheel chair ramp wouldn't fit in the space available between the houses we determined that a wheel chair elevator would be required.
Jane reached out to several elevator companies and James Boydston of Handi-Lift in Carlstadt donated the $14,000 elevator and the labor to install it.
Chris and David worked with James and his team to determine what would be required to integrate the elevator in the front of the house. After the plans were drawn up, Chris prepared the building permit paper work and submitted it to the Paterson Building Dept.
Upon approval by the Paterson Building Department, Chris Caputo coordinated with an electrician who facilitated the power to the elevator panels, directed a mason to build a concreete pad, James B and his team installed the donated elevator and approval was granted.
In November, there was a ribbon cutting ceremony that included those involved in the project along with Giants of Generosity Jane Albanese and board members and the Mayor Torres from the City of Paterson.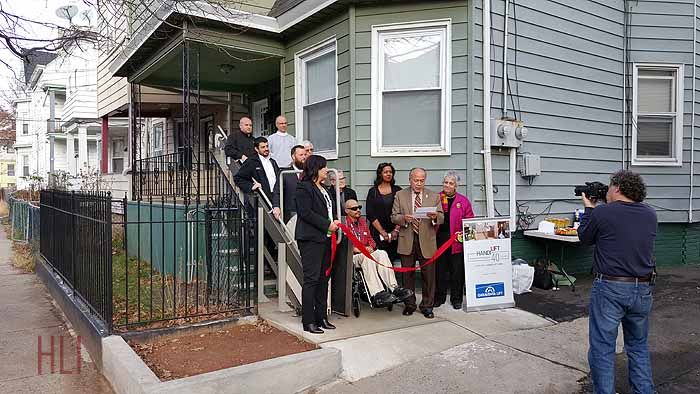 Another community service project in Bergen County which NJ NARI and National Remodeling Foundation (NRF) took on was to remodel a bathroom for a girl who was suffering from Cri Du Chat Syndrome. David worked on the project demo'ing a section of a room and framing a partition wall that would become a bedroom with an attached bathroom.
A few years later, Jane Albanese contacted Chris about a smaller project but just as worthwhile. This family's dishwasher had stopped working and this deaf single mom caring for her son really could use the assistance of a dishwasher.
Chris contacted a long-time colleague at Karl's Appliance in Fairfield to see if they would have a dishwasher they would be willing to donate to this needy family. Karl's Appliance graciously donated a new dishwasher and Chris and Gene installed it for the family.
Shortly after installing the dishwasher, we were asked to replace a gutter and downspout on the rear of the house. Chris and Gene purchased and installed the gutter and downspout.
Sometimes it's all about giving back. G&L and Sons Renovations, LLC is proud to be involved in community service.