---
So, you're ready to remodel your bathroom and the possibilities are absolutely endless. Your first stop is to visit Houzz.com (You can see some of our previous renovation photos here, too!)
But, now you're sufficiently confused and overwhelmed, and if you haven't had any remodeling experience or don't have design savvy, your best best is to contract a local remodeling contractor.
Tile makes a statement in a bathroom remodel project. Choosing a diagonal pattern (often referred to setting tile on a "45" (45 degree angle) can visually widen a room.
Insetting a small square by having a professional tile contractor clip the corners of a square tile can create an Art Deco look reminiscent of years gone. You can also use a sheet of mosaic tile squares of marble, granite or glass to create a border, stripe or visual interest.
It's a great way to add an accent color in an otherwise monochromatic scheme.
Choosing a tile layout for your bathroom remodel is an important component. Accent tiles come in every variety, shape, style, color and medium. The sky is the limit and the look can be amazing!
Here's an example of a fabulous 12x12 bathroom created in true Country French style.
The combination of a rustic porcelain tile and tumbled marble creates a spectacular look in a 4 foot neo-angle shower that has plenty of room.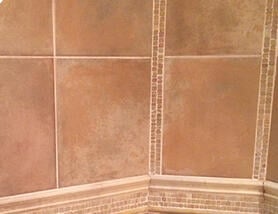 Tumbled Marble, pencil and chair rails accent this rustic porcelain tile!


---
Coordinating with the porcelain tile set in a running brick pattern and granite saddles and accent pieces creates a custom bathroom look.
---
Here's the running brick pattern that was used the floor of this 12x12 bathroom. So you can see why the tile layout for your bathroom remodel is important.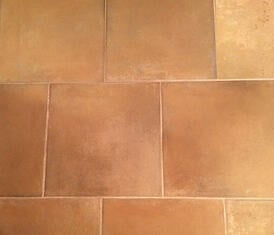 A helpful note:
Bear in mind, the more intricate the layout, the more costly the labor component. A talented tile contractor can create a perfect replica of your dream layout.
Running brick, herringbone, mosaic inserts, parquet, the list goes on and on... But, while the cost may not be in your budget, the impact of the design may make a huge difference in the completed project.
Remember, you'll live with this design for many years...don't sacrifice what you love for a few dollars.
And here is the end result: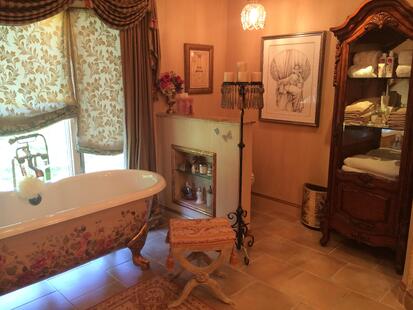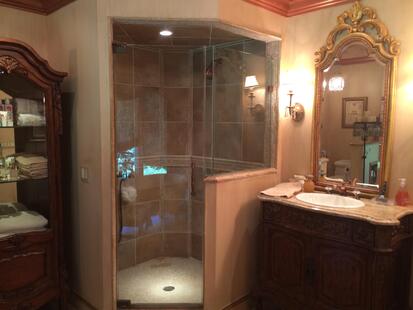 What to look for in a home remodeling contractor?
Experience (ask about prior projects)

Reliability (check references)

Comfort Level (you must develop a rapport with a contractor...this is particularly helpful during a lengthy project!)